Maintenance and servicing procedures for clutch servos are crucial to ensure their longevity and reliability. Proper maintenance can help prevent issues and extend the life of the clutch servo. Here are some recommended maintenance and servicing procedures:
1.Regular Inspection:
Conduct thorough visual inspections of the entire clutch servo assembly. Inspect the servo housing, mounting brackets, and all associated connections for any signs of wear, corrosion, or physical damage.
Pay close attention to the mounting hardware, ensuring that all fasteners are securely tightened. Loose or damaged brackets and bolts can lead to misalignment and compromised performance.
2.Lubrication:
Adhere to the manufacturer's lubrication recommendations to maintain the proper functioning of the clutch servo. Lubricate critical moving components, including pivot points and linkage parts.
Utilize the specified lubricants and greases to prevent premature wear and reduce friction within the servo mechanism.
3.Air or Hydraulic System Checks:
For air-operated clutch servos, systematically inspect the entire pneumatic system. Look for leaks in air lines, fittings, and connections.
Monitor the air pressure within the specified range to ensure that the clutch servo receives adequate pressure for optimal performance.
In hydraulic systems, examine hydraulic lines, fittings, and the reservoir for signs of leaks, contamination, or deterioration. Address any issues promptly.
Regularly check and maintain the hydraulic fluid levels and quality, adhering to the manufacturer's recommendations for the type of fluid to use.
4.Adjustment:
Periodically assess and fine-tune the clutch servo linkage and actuating mechanism. Proper adjustment ensures that the clutch engages and disengages at the correct pedal travel and with consistent feel.
Follow the manufacturer's guidelines for adjustment procedures and specifications to maintain the desired clutch pedal operation.
5.Seal and Gasket Inspection:
Inspect seals and gaskets within the clutch servo for any indications of wear, damage, or deterioration. These components are vital for maintaining hydraulic or pneumatic pressure.
Promptly replace any compromised seals or gaskets to prevent fluid or air leaks that could hinder clutch servo performance.
6.Cleaning:
Keep the clutch servo and its immediate surroundings clean and free from contaminants. Dust, dirt, and debris can infiltrate the servo and adversely affect its operation.
Periodically clean the exterior of the clutch servo housing to prevent the buildup of foreign substances that could compromise its integrity.
7.Manufacturer Guidelines:
Consult the manufacturer's documentation for your specific clutch servo model to access detailed maintenance schedules, procedures, and specifications tailored to your unit.
8.Performance Testing:
Regularly conduct performance tests on the clutch servo to evaluate its functionality. Assess clutch engagement and disengagement for smoothness and consistency.
Be attentive to any atypical noises, delays, or variations in clutch operation, as these may signal underlying issues requiring further inspection and maintenance.
9.Replacement:
In cases where the clutch servo exhibits severe wear, internal damage, or persistent performance problems that cannot be resolved through adjustments or repairs, consider replacing it with a new or professionally rebuilt unit.
Ensure that the replacement unit aligns with the vehicle's specifications and manufacturer recommendations.
10.Professional Servicing:
When in doubt or if you lack the requisite expertise, seek the services of a qualified technician or a reputable service center with expertise in clutch servo maintenance and repair.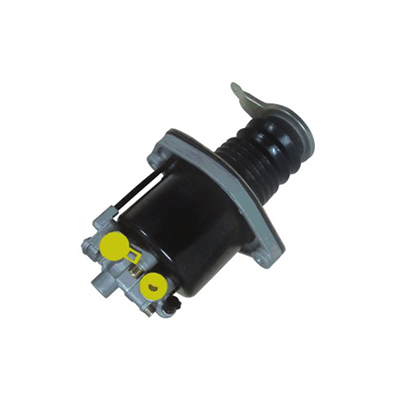 Applicable models: DIA:102mm
AIR:M16×1.5
HYD:M14×1.5
STROKE:75mm
Application: BENZ,DAF