Foot brake valves themselves do not directly contribute to fuel efficiency in modern vehicles. However, the braking system as a whole, including foot brake valves, can indirectly impact fuel efficiency in several ways:
1.Regenerative Braking Technology:
Regenerative braking systems, often coupled with foot brake valves, are pivotal in hybrid and electric vehicles. During deceleration, these systems convert kinetic energy into electrical energy, storing it in the battery for later use. By reducing reliance on friction-based braking, foot brake valves play a role in preserving momentum and enhancing overall fuel efficiency, especially in urban stop-and-go traffic scenarios.
2.Weight Reduction and Materials Innovation:
Foot brake valves, crafted from lightweight and durable materials, contribute to the overall reduction in vehicle weight. Lightweight components reduce the energy required to propel the vehicle, enhancing fuel efficiency. Manufacturers continually invest in research to develop advanced materials that maintain robustness while minimizing weight, thus optimizing the vehicle's energy consumption.
3.Aerodynamic Design and Brake Efficiency:
Modern vehicles are engineered with aerodynamics in mind. Properly functioning foot brake valves facilitate smooth and controlled braking, minimizing abrupt stops. Such controlled deceleration reduces the dissipation of kinetic energy, allowing the vehicle to maintain its streamlined motion. Smooth braking not only enhances safety but also reduces fuel wastage, making aerodynamic efficiency and precise braking integral components of fuel conservation strategies.
4.Tire Performance and Rolling Resistance:
Foot brake valves, when employed judiciously, prevent unnecessary and aggressive braking, reducing tire wear. Well-maintained tires with optimal tread depth and inflation levels offer minimal rolling resistance. Reduced rolling resistance ensures that the engine expends less energy to overcome friction, thereby conserving fuel. Foot brake valves, by enabling controlled stops, indirectly contribute to tire longevity and, consequently, fuel efficiency.
5.Engine Management and Coordinated Braking:
Advanced vehicles employ integrated systems that synchronize engine operation with braking maneuvers. Properly calibrated foot brake valves ensure that the braking force is applied efficiently, allowing the engine management system to adjust power delivery accordingly. This synergy ensures the engine operates in its most fuel-efficient range, particularly during deceleration and stops, thus minimizing fuel consumption.
6.Driver Behavior and Educated Driving:
Educated drivers, aware of the vehicle's braking capabilities, tend to use foot brake valves judiciously. Smooth and gradual braking, enabled by responsive foot brake valves, reduces unnecessary fuel consumption. Manufacturers often provide driving tips to promote efficient braking techniques, encouraging drivers to anticipate stops and apply brakes progressively, fostering a culture of fuel-conscious driving habits.
7.Overall System Efficiency and Brake Drag Prevention:
Integrated braking systems, including foot brake valves, anti-lock braking systems (ABS), and electronic stability control (ESC), operate cohesively. Properly functioning foot brake valves prevent brake drag, a situation where brakes do not release fully after application. Brake drag not only compromises safety but also leads to increased fuel consumption due to constant resistance. Foot brake valves, designed for optimal release and engagement, contribute significantly to preventing brake drag, thereby preserving fuel efficiency.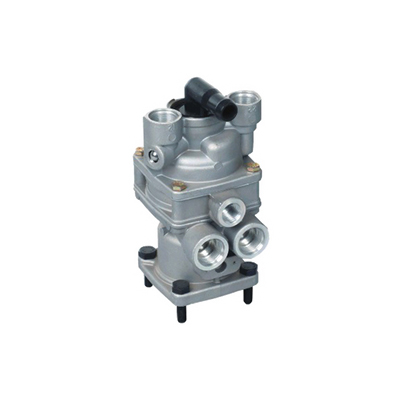 The foot brake valve is an important part of the vehicle braking system. It is a mechanical device that allows the driver to control the application and release of the brakes with their feet. When the driver puts his foot on the valve, it opens a channel for air to flow, allowing the brakes to be applied. The more force the driver exerts on the valve, the stronger the brake engagement becomes.